Report by Chris Cole
Bracklesham, 31st December 2009. (Low Tide 0.7m at 1633 hrs , Sunset 1607 hrs)
The barometer was steady at 993 mb. There was a light North Easterly wind and the temperature was about 1c. The sky was overcast and the light was average.
Compared to my last visit on 15th December not much had changed. The beach from the car park and eastwards was littered with light debris but mainly dragged down from the top of the beach. There has been no significant change in the number of fossils being washed out. In about 90 minutes, I found just 7 sharks teeth mainly to the east beyond the long groyne at the E3 Reef. Some of the reef was exposed between the shingle and the low water mark. The teeth that I found were amongst debris (including iron pyrites nodules) near the low water mark. None of the finds were of significant interest except maybe for a damaged 32mm Jaekelotodus Trigonalis.
Another collector had found a good fragment of Trionyx (Turtle) near the outflow pipe to the east in the region of E4.
There was still a reasonable patch of E2ii partially exposed just west of the long groyne at E3 and between the end of the groyne and the shingle. This contained mainly molluscs. I did not find anything worth picking up in it.
As this was my last visit to Bracklesham for 2009, I have attached a photograph of the tray of specimens that I have collected during the year at both Selsey and Bracklesham. My overall assessment comparing 2009 with 2008 is that this year was slightly better although most finds were made in the period from January to April.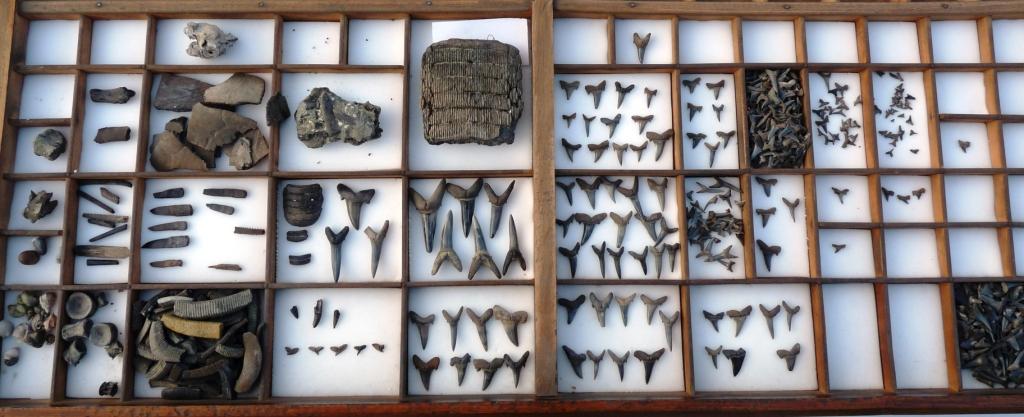 If anyone would like any better views of any of these specimens, I would be happy to provide them via E-mail or on the TRG web site.
Finally, just a reminder for anyone familiar with the Selsey West Beach site, the Environment Agency now plan a managed retreat of the sea defences and will be allowing approximately 100m of sea defence in the vicinity of Medmerry Farm to be breached with new defences being instated further inland. The impacts to the Geological SSSI and the access to this site are uncertain with the possibility of it turning into mudflats. There are discussions ongoing between the local community, the Environment Agency and RSPB who now own a considerable area of land behind the current sea defences.
Happy hunting in 2010.