Report by Chris Cole
BRACKLESHAM, 3rd August 2008
The holiday season is in full swing and with reasonable weather the beach was quite crowded. The low tide was 0.6m at 1928. The wind was light SW and the atmospheric pressure was 1013 and rising slowly.
The tide did go out approximately 150m from the shingle. There is still quite a bit of debris over the entire beach with more showing to the west of the car park. The beach appears to have levelled out leaving the sand wet. As a result of this, it was easier to pick out the smaller teeth. Most of the medium size teeth found were damaged with the exception of the 35mm Striatolamia macrota tooth (see picture below). Very few teeth were found East of the car park. There was quite a bit of debris left by the tide but most of it dragged down from the top of the beach.
There was nothing of the E3 Reef showing but there was a reasonable patch of E4 stretching along the beach past the outflow pipe. I would normally have expected to find something in E4 but I found nothing on this occasion. This may have been due to the sun being low in the sky.
If you choose to visit this site, I would recommend looking West of the Car Park first.
SELSEY, 4th August 2008
The morning low tide was the best predicted for the month 0.3m at 0752. The wind was light NW and the atmospheric pressure was 1016 and rising slowly.
I met Chris Newman searching for fossil molluscs on the beach. As a point of reference we went on to the beach at the West end of the Caravan Park.(Many of the caravans damaged in the December storm have still not been replaced.) The tide went out a little past the Old Flag post base. There was quite at bit of S7 exposed about 30m from the shingle and stretching eastwards for about 200m. (See Photo) Some of this bed was fossiliferous; mainly at the top end and less so towards the east. Just 2 specimens were found in this bed. A medium sized Jaekelotodus trigonalis and a large fragment of Myliobatis dixoni. (See in situ photo).
There was very little debris on this beach. There was evidence of some Holocene deposit with tree roots in it about 200m from the shingle near the sluice gate. No other vertebrate fossils were found. Chris Newman did manage to collect a few mollusc specimens but nothing special.
I could not recommend visiting this site at the moment.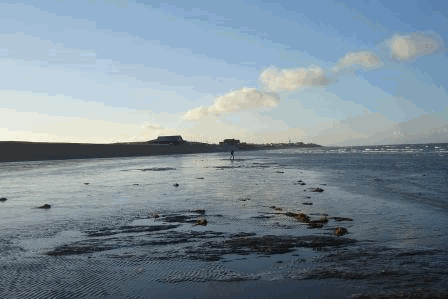 West Beach Selsey, Monday 4th August 2008. S7 exposure looking Eastwards.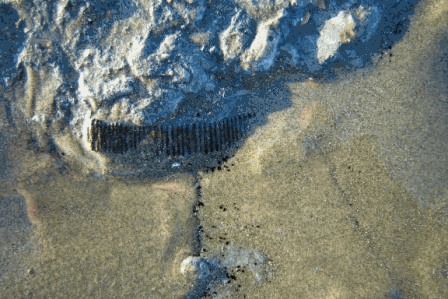 West Beach Selsey, Monday 4th August 2008. Myliobatis dixoni fragment in situ in the S7 exposure.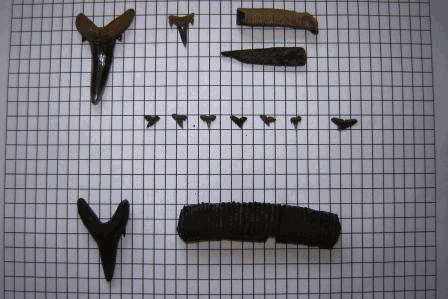 Specimens found at Bracklesham and West Beach Selsey on 3rd and 4th August 2008.
Striatolamia macrota 35mm – top left (Bracklesham)

Lamna lerichei – middle top (Bracklesham)

Aetobatis irregularis fragment – top right (Bracklesham)

Pristis sp. Rostral peg – below Aetobatis Irregularis (Bracklesham)

Physogaleus secundus – Bracklesham)

Abdounia sp.? – (Bracklesham)

Abdounia recticona – (Bracklesham)

Abdounia recticona – (Bracklesham)

Abdounia recticona – (Bracklesham)

Abdounia minutissima – (Bracklesham)

Physogaleus secundus – Bracklesham)

Jaekelotodus trigonalis – bottom left (Selsey)

Myliobatis dixoni fragment – bottom right (Selsey)