SITE REPORT: Chris Cole (
fossilcole@gmail.com
)

Bracklesham 26th January 2013. Low tide 0.9m at 1648hrs.
I arrived on site at the Sea Front Car Park at approximately 1445. The tide had passed the end of the short groynes and there were a few family groups already hunting. The light conditions today were not too bad but declined with progressive cloud cover and a setting sun. The sunset was about 1645. It was quite chilly at about 5c and a brisk NW wind.
This was my first visit of 2013. I had a brief trip here in November but only found 2 broken sharks teeth to the west up at the East Wittering end and notably there was no "Reef" exposure of the E3 Beds at the east end of the beach.
There was a lot of shell type debris over the entire beach. I found approximately 20 sharks teeth and numerous ray (myliobatis sp.) fragments. I also found quite a big fish tooth (not identified it yet) and a Pristis rostral peg.
I met fellow TRG Member Tim Hobbs on the Beach. Tim had also had a good day and incredibly found a nice juvenile Carcharocles Auriculatus tooth in front of the flats to the east of the car park. Tim did apologise that this was his 25th Auriculatus find but the first for 3 years!!! Well done Tim.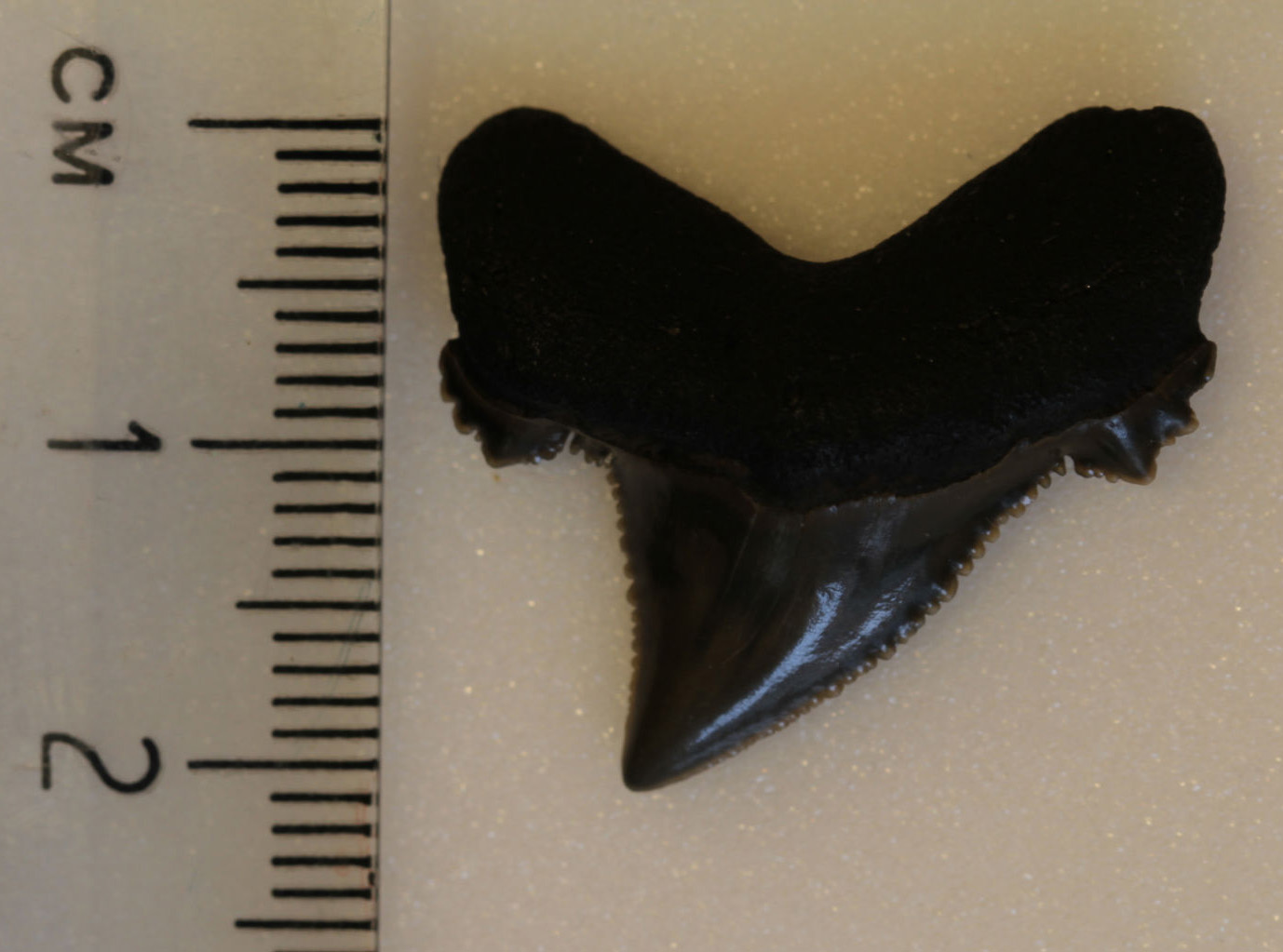 Carcharocles Auriculatus tooth. (Acknowledgement – Tim Hobbs)
My assessment of collecting at West Beach Selsey / Bracklesham based on personal experience during 2012.
Collecting at Selsey West Beach came to an abrupt end in April 2012. This was coincident with the Environment Agency, Managed retreat sea defence works and the Bunn Leisure New Beach works (Medmerry) . The Bunn Leisure (a Private Initiative) works have significantly changed the access and the dynamics of the beach along this stretch. You can get an idea of the extent of the work by looking at the link below and by viewing the 2 webcams that have been installed.
http://beautifulbeach.bunn-leisure.co.uk/amazing-facts.aspx
These works in my opinion have clearly affected the status of the SSSI and devalued the reason for having SSSI status. Notably even after a short space of time, significant erosion of the cliff area to the east of the works is now evident.
An update of the Environment Agency works can be viewed at the link below and the breakthrough of the Sea Defence has been delayed due to the poor weather experienced over the last few months and is now planned for the Autumn 2013. This breakthrough is likely to have further impact on the Geological SSSI and in particular access to this part of the beach.
http://www.environment-agency.gov.uk/static/documents/Leisure/Medmerry_e-update.pdf