Report by Chris Cole
WEST BEACH, SELSEY, 25 October 2007 (LOW TIDE 0.6m AT 1705 BST)
Weather conditions fair. Sunny with a light south westerly wind. Atmospheric pressure 1028 and steady.
A reasonable spring tide which went out about 20m past the old flag post base. There has been no improvement in the state of this area of beach since my visit here on 24th October 2007.
Only 1 find today at the extremity of the tide about 100m from the shingle at a mid point between the sluice gate and the groyne to the east (S7i). This 50mm Striatolamia Macrota was a lucky find since there was no gravel or shell debris to be seen anywhere on this part of the beach.
Although this was as good a find I have had this year, it is still my opinion that this site is not worth visiting at the moment.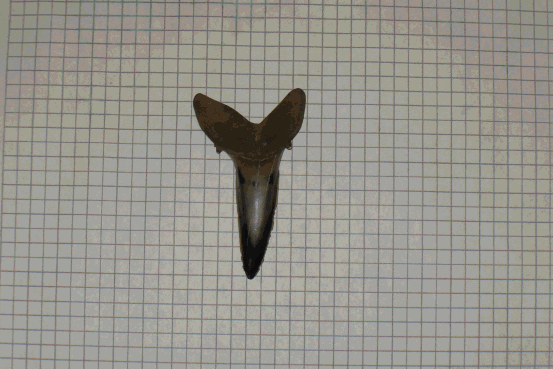 1. Striatolamia Macrota found in S7i
BRACKLESHAM, West Sussex 24 October 2007 (LOW TIDE 0.8m AT 1615 BST)
Weather conditions were reasonable. It was dry but overcast with a light north easterly wind. Atmospheric pressure 1026 and falling. Light conditions not that good for fossiling. I got on to the beach at about 1500. Sunset tonight is due about 1800. I packed up at about 1730 but could have gone on for another 30 minutes whilst the tide came in.
It was quite a good low tide. The spring tides get even better over the next few days. This was my first visit here for some time. (See my West Beach, Selsey report dated 11th October 2007). The shingle is heaped up at the top of the beach. The tide exposed a considerable area of "flat" sand as it went out. The extremity of the tide at 1615 was about 25 metres past the longest groyne.
I only worked the area from the car park and eastwards to the long groyne where part of the cardita reef at E3 is normally exposed. There was a small patch of E3 exposed to the west of what is normally exposed. (See picture 1).
The beach was generally scattered with quite a bit of light shingle and shell debris and it did look quite promising. The find rate was much better than experienced recently although quite a few of the teeth found were damaged. (See picture 2).
The best find of the day was a myliobatis striatus palate with seven bars intact found by Tim Hobbs in situ in E3. Tim kindly let me take a photograph of it in situ. (See picture 4).
Note that the clocks revert to GMT on Sunday 28th October and therefore the 0.2m low tide will be at 1810 (GMT). Sunset will be 1646.

Bracklesham beach from the long groyne near the E3 reef and looking West. Tim Hobbs on his knees!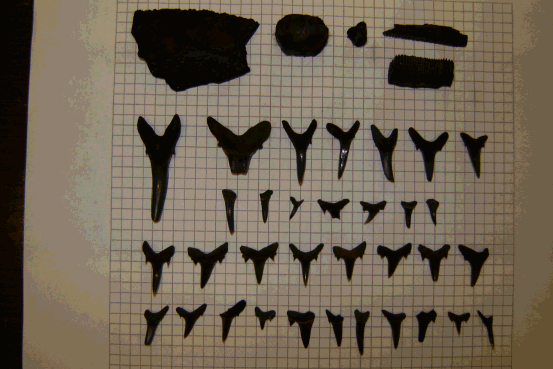 Today's finds on a 5mm grid.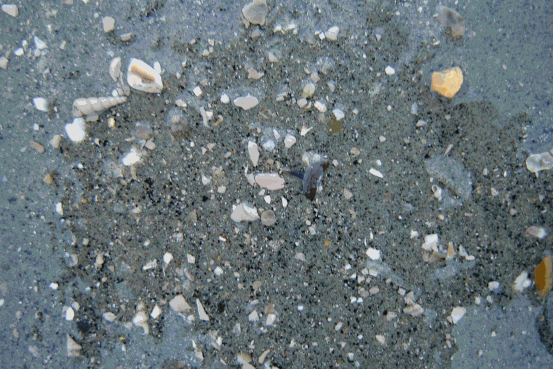 A typical find today.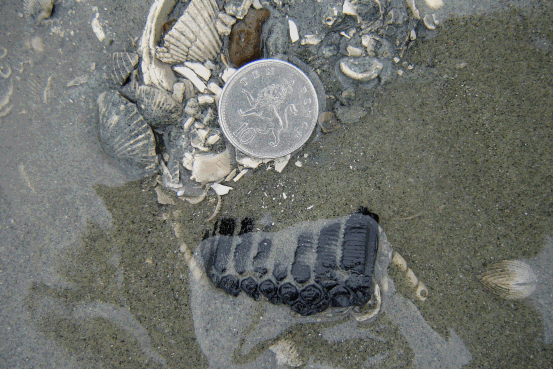 4. Myliobatis striatus in situ E3 zone. (Courtesy of Tim Hobbs).