Report by Chris Cole
WEST BEACH, SELSEY, 23 December 2007 (LOW TIDE 0.8m AT 1619 GMT)
Weather conditions fair. Mainly cloudy, with a light south easterly wind. Atmospheric pressure 1028 and falling.
This visit was more about investigating any changes over the lat 30 days. With the low tide after sunset, I did not have high expectations! I thought with the recent pounding this stretch of coast has had, that there may have been some improvement. I had noted a dredger a mile or so off Bracklesham and think it may have been involved with some private sea defence work being carried out opposite the club house on the West Sands caravan park. The sea defences in front of the houses has been further damaged and the risk of losing some of this property to the sea looks ominous. The non-action by the Environment Agency and Chichester District Council is hard to comprehend. Hundreds of tons of rock have been deposited at the top of the beach opposite the club house. There are at least three diggers parked close by. This area of the road and beach has been fenced off. (See pictures below).
The sand on the beach was very rippled and there were just a few square metres of S7 visible. There was a bit more showing at the Coastguard end but from what I saw, this was devoid of any obvious fossil material. (See picture).
In my opinion, this site is NOT worth visiting at the moment.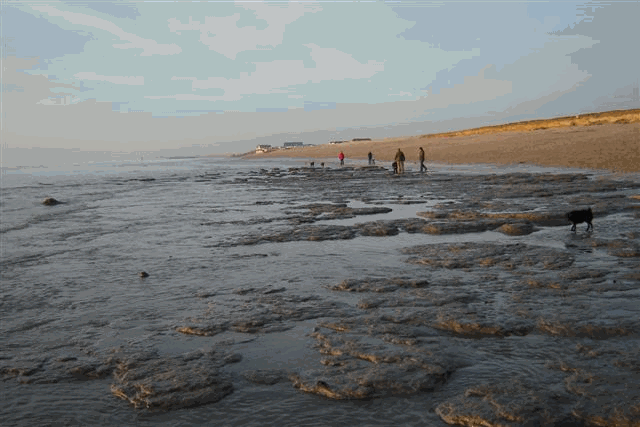 1. West Beach, looking west from a position on the beach at the coastguard station.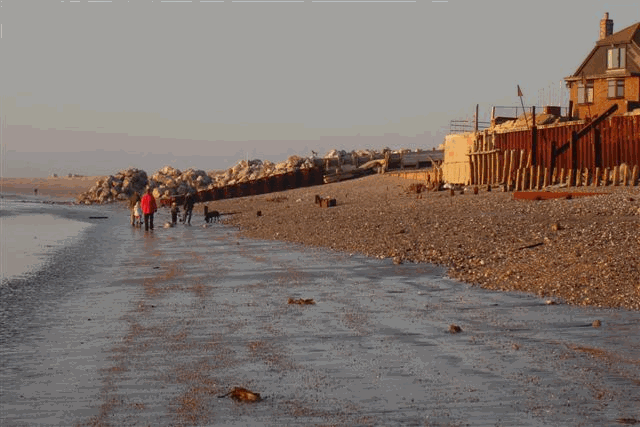 2. Top left is the last house at West Beach with sea defence in a poor state.


3. View looking east towards the Selsey coastguard station.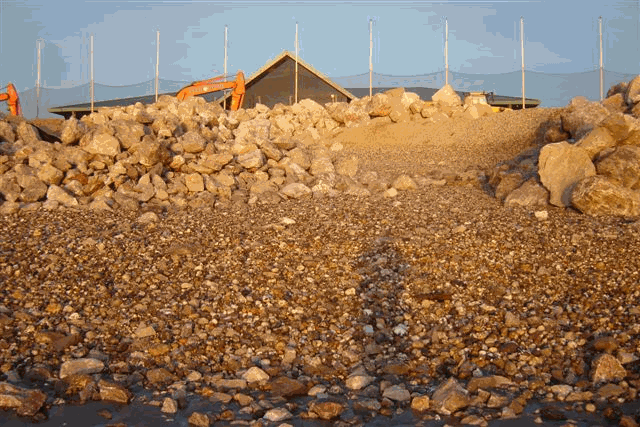 4. Rock deposited in front of the club house at West Beach.