Report by Chris Cole
BRACKLESHAM, 21 March 2008 (Vernal equinox) (LOW TIDE 0.4m at 1709)
Weather conditions good. Clear sky, sunny with a stiff cold north westerly wind. Atmospheric pressure 986 and steady.
There is still a lot of light debris all over the beach even down to the low water mark. The sand was predominantly flat today and the tide went out a long way (Estimate 50m beyond the end of the long groynes). The conditions looked very good for finding sharks teeth. Approximately 50 found between myself and Wes and many of them are good specimens.
Most teeth were found at the car park end and to the east. Parts of the E3 reef were visible around the end of the long groyne but submerged. There were a many carditas, turritellas and nummulites scattered around the entire beach, but more so the further east I walked.
In addition to the usual shark teeth specimens, I found a crocodile tooth and Wes found a small myliobatis (Stingray) palate with 3 bars and a pristis (Sawfish) rostral peg. There were quite a few myliobatis fragments amonst the light debris.
If anyone is interested in the storm damage recently along the west side of Selsey, there is a good video clip takem from the Coastguard Station at the website link below:-
http://uk.youtube.com/watch?v=k0deGCFGQAs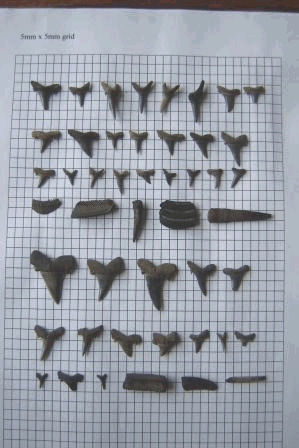 1. Bracklesham finds 21 March 2008.