Report by Chris Cole
Bracklesham, 24th April 2009. (Low Tide 0.6m at 1727)
The barometer was falling and showing 1002 mb. There was a light easterly wind and the temperature at 1800 was about 12c. Light cloud cover resulted in good hunting conditions.
Today I found about 50 sharks teeth, most of which were in front of the Car Park. The photograph below shows the best specimens found.
To the east of the car park, there was some evidence of E2 / E3 unusually showing in front of Marineside Flats. More importantly, there was significant exposures of E3 (Venericardia Bed), E4 (Turritella Bed) and E5 (Palate Bed).
The total exposure is estimated at about 400m eastwards towards Selsey and about 50m wide. I only spent a little time in this area as I did not realise that had become exposed as the tide went out. Two other TRG members were on site. David Bone had found quite a large reptile vertebra (Probably Crocodile) and Mike Lowe found a very nice specimen ray palate.
I hope to get some pictures of this exposure over the weekend. If you have any interest in these exposures, then I would recommend a visit before they get covered up again.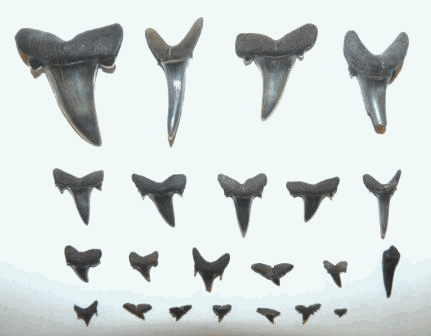 A selection of teeth found mainly in front of the car park. The largest tooth is 37mm and the smallest just 2mm.
Bracklesham, 19th April 2009. (Low Tide 1.9m at 1350)
Only a small tide on this day, but I did find about 20 sharks teeth all at the Car Park end.
The best of the crop was this Striatolamia Macrota at 57mm.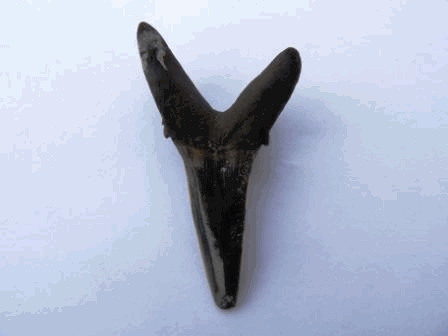 Striatolamia Macrota (57mm)