Report by Chris Cole
BRACKLESHAM, 14th February 2009 (Low tide 0.7m at 0805)
The barometer is steady at 1025 mb. A very light south westerly wind as the sun rose (0716). Temperature at 0700 was about -2c although it rose to about 6c by 0930.
The beach is still covered in shell and gravel debris especially at the car park end. There was just Tim Hobbs and myself on site today. Tim had managed to collect quite a number of small teeth in the vicinity of the car park groynes. Not much else to report other than the number of larger teeth being found is disappointing. This has been a slower start compared to last year. It is worth mentioning that there has been more than the usual number of intact ray palates found so far.
Just for reference purposes, I have attached a couple of photos of Tim on his knees, the beach in the E3 region and a 26mm Jaekelotodus Trigonalis tooth found near the car park.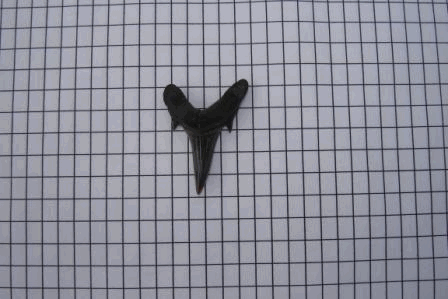 Jaekelotodus Trigonalis (26mm) found at Bracklesham 14th February 2009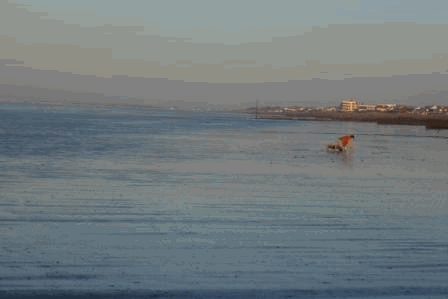 Bracklesham looking West from the car park. Tim Hobbs on his knees!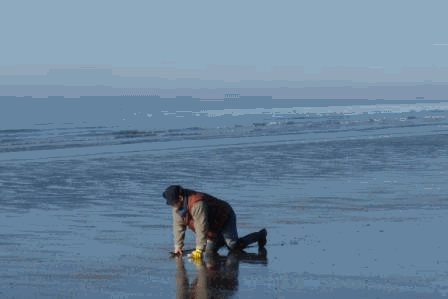 Tim Hobbs harvesting small sharks teeth.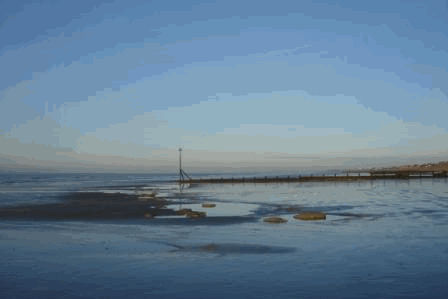 4. Bracklesham looking Westwards over E3.
BRACKLESHAM, 15th February 2009 (Low tide 1.0m at 0845)
The barometer is steady at 1023 mb. A very light south westerly wind as the sun rose (0715). Temperature at 0730 was about 5c. The high cloud cover today actually made it easier to find teeth than the very bright sunny conditions experienced yesterday.
No real change to the density of the debris on the beach. Today I concentrated my hunt between the long groynes either side of the car park. Even on this 1.0m tide, there was still plenty of beach to look at. I collected about 35 teeth in just under 2 hours. These included 3 good specimens of Striatiolamia macrota at 45mm, 35mm and 25mm respectively and a nice Physogaleus Secundus (Bottom middle tooth in the photo below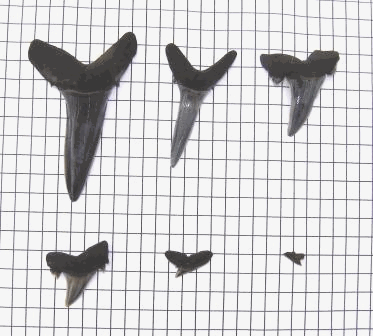 A selection of sharks teeth found at Bracklesham 15th February 2009