Report by Chris Cole
Selsey, West Beach 11th March 2009. (Low Tide 0.2m at 1728)
The barometer was rising and showing 1018 mb. There was a very light south westerly wind and the temperature at 1800 was about 7c. Light cloud cover resulted in good hunting conditions.
The West Sands Caravan Park is now open. You can still park near the green gates where the Environment Agency has been shoring up the Sea Defences. The defences seem to be slightly wider and higher since my last visit here.
There were quite extensive exposures showing.
An area of about 250 x 30m was exposed south of the Old Flag Post base (S7i), leaving quite a few gulley's to look in.
There was also a reasonable area exposed near the top of the beach just east of the sluice gate (S5). This was soft clay with tree roots in it.
The oblique clay nodules (S7ii) south east of the Old Flag Post base were exposed and further exposure could be seen further out in shallow water.
There was also an exposure in the middle of the beach and spreading eastwards towards the Club House (S7i). I did not have time to check this out.
Many of the gulleys were exposed and the water in them was quite clear. Sharks teeth were few and far between and I only found 1 medium sized sharks tooth in about 1 hour on site.
I did however find an excellent specimen of a Myliobatis Dixoni?? (Eagle Ray) Palate in a gulley out of S7ii. This was about 180m from the shingle line and slightly east of the sluice gate. The Palate specimen is about 80mm wide and 80mm long and has 7 of the bars intact. This is the biggest Myliobatis specimen I have found from this site, although I have a couple of damaged single bars of a similar width also found in this area.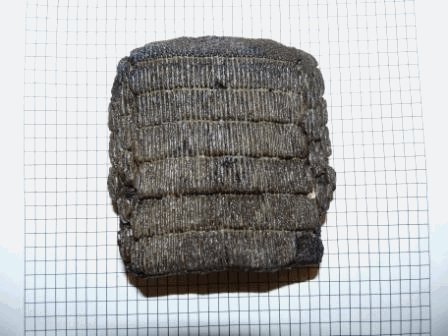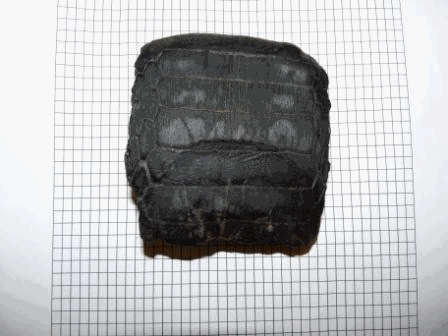 Myliobatis Dixoni palate (basal view on the left and occlusal view on the right)