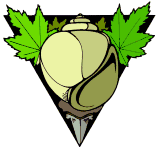 The Tertiary Research Group
Programme No. 55 for 2009

Programme Co-ordinator: Graham Ward


Telephone: 01277 218 473

TRG Homepage:

http://www.trg.org

Details of the Programme are as complete as possible at the time of printing. Updates will appear as necessary and will be posted on our Web site.

The Tertiary Research Group cannot accept liability for any loss or accident incurred whilst on out field meetings. Everyone who attends does so at his or her own risk. Always wear suitable footwear and clothing.

For quarry visits, please bring your own hardhat and high visibility vest.

---------------------------------------------------------------------------------------------------------------------

Saturday 18th April

AGM at 81 Crofton Lane, Orpington, Kent.
Hosts: David and Alison Ward
All TRG members are welcome to the Annual General Meeting. Please bring any interesting, spectacular or unidentified finds from the previous year.
Arrive from 12.30 pm onwards. The formal meeting starts at 2 pm. Cold food will be available from 1pm; hot food and drink from about 4 p.m. Nearest railway station: Petts Wood - 15mins.
For further details, contact David Ward (landline: 01689 871 565, mobile: 07971 567 325).
Sunday June 28th

Field Meeting to Osea Island, Maldon, Essex.
Directors: Graham Ward and Bill George
An opportunity to look at the Isselicrinus subbasaltiformis bed in the London Clay exposed on the foreshore and collect pyritized crinoid stems and fragments of the lobster Hoploparia gammaroides.
Meet at 9.30 a.m. at Decoy Point [TL 891 070].
Waterproof boots are essential as the foreshore is muddy
Joint visit with the Essex Rock and Mineral Society.

Sunday July 26th

Crag Sites of Suffolk.
Director: Bob Markham
Various sites in the Coralline and Red Crags will be visited.
Meet at 10.30 a.m. at Woodbridge railway station car park [TM 273 487].
Joint visit with the Suffolk Natural History Society and the Essex Rock and Mineral Society.
Sunday 27th September

Field Meeting to Harwich and Wrabness, Essex.
Directors: Graham Ward and Bill George
An opportunity to collect sharks' teeth from the foreshore at Harwich and look at 32 layers of altered volcanic ash in the London Clay cliff at Wrabness.
Meet at 11 a.m. by the low lighthouse at Harwich [TM 263 324].
Joint visit with the Essex Rock and Mineral Society and Essex Field Club.
Sunday 11th October

Abbey Wood, Kent.
Director: Jerry Hooker
This trip continues to be the most popular of recent years, with individuals and extended families taking the opportunity to dig and sieve the richly fossiliferous early Eocene Blackheath shell bed.
Attendance requires all participants to retain and search all material over 0.5mm. Participants may keep all they find, with the exception of reptile, bird and mammal remains, which should be brought to the Director's attention. Please bring a digging tool, a large bucket or bowl, bags and your own set of graded sieves. Water for wet sieving and a few sieves should be available.
Meet at 12.00 a.m. at the excavation within the woods. Abbey Wood station is within walking distance. Drivers please park on Abbey Road (the B213), not in the woods.
As previously, we must hire a mechanical digger. This is a costly undertaking, so it is hoped that all active participants will make an appropriate donation, in the order of £20 (Members) and £25 (Guests). Without this voluntary donation we would not be able to afford this excavation.